Today has been busy, protective, and very fulfilling. I started the day off with Mia Haber at The Raven Spa in the always interesting, hipster L.A. neighborhood of Silverlake. Mia taught a fabulous Kundalini Yoga class on creativity and overcoming creative blocks. At the end I led the class in singing "Long Time Sun" and then sang an original peace prayer.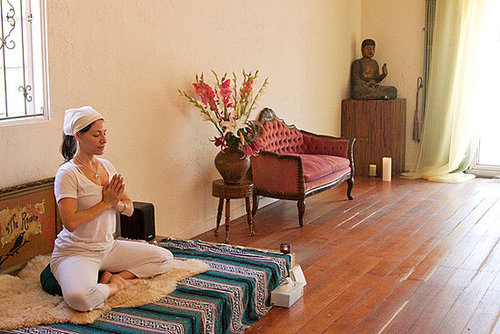 That's Darling Mia in the Beautiful Yoga Studio


After that, I was off to Santa Ana, to visit a new Vietnamese Temple I had never been too. The kids at this temple were so full of life, and got comfortable enough to request a Jason Mraz tune (that luckily I knew!) and ask me questions about how I became a singer and how long I have played the guitar. It was a lot of fun conversing with these little buddhas.
Taking a Break From Singing to Chat
For the final chapter of the day, I am heading off to Hollywood to see Jose Gonzalez. Yay! I love a full day of music. I don't want to keep it all to myself. So here is a video of my favorite Jose Gonzalez song, "Killing For Love."
Peace and Music, Everyone!
Michelle